Academic Excellence
UC Berkeley is ranked the 4th best university in the world to study Arts & Humanities.
According to the National Research Council, the "gold standard" for college rankings, three Arts & Humanities departments are ranked #1 in the country: Art History, English, and German. Several other departments are ranked in the top ten, including: Classics, Comparative Literature, French, Music, Philosophy, Spanish & Portuguese.
Small Class Sizes
The Arts and Humanities division has smaller than average class sizes, providing our faculty the opportunity to get to know their students. The average lower-division class in Arts and Humanities is 24 students, and the average upper-division class is 19 students.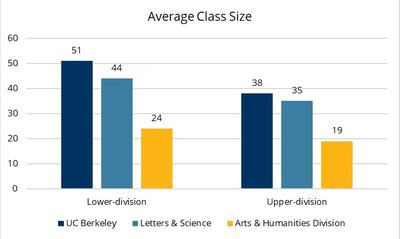 Accomplished Faculty
Arts and Humanities faculty have won the most teaching awards on campus.
62 current UC Berkeley faculty members have received the prestigious Guggenheim Fellowship, honoring exceptional scholarship or creative ability in the arts.
Arts and Humanities faculty published more than 40 books in 2016.
Satisfied Students
According to the 2016 UC Undergraduate Experience Survey, students in the Arts and Humanities at UC Berkeley reported the highest student satisfaction rates on campus. Arts and Humanities students report higher than average happiness in every category measured, with the highest ratings in quality of their major courses and access to faculty outside of classes.